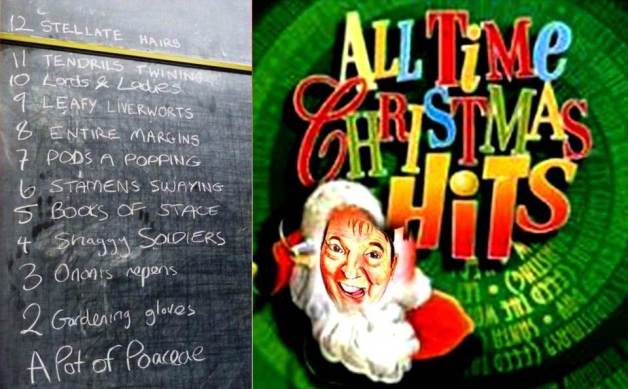 On the twittersphere and globally it is no secret that Dr M has been planning something a bit special for this Christmas.
Together with his MSc students and colleagues at the University of Reading as well as in the BSBI and globally, as far as the botanical island of Guernsey and beyond, this planning has been all-consuming!
It has been a little while in gestation but at last Dr M is proud to reveal the birth of "The Twelve Days of Dr M" a botanical Christmas number 1 if ever there was one (and there usually isn't).
Dr M's dead certain Christmas hit is an eXtreme botanical twist on an old favourite with brand new botanical lyrics lovingly crafted by a raft, nay a veritable host, of botanists the world over.
This extraordinary achievement would not have been possible without the help and dedication of the global botanical community – we are all #iamabotanist after all!
Dr M would especially like to acknowledge the support of his academic and twitterological colleagues @RNGHerb and and @BSBIbotany and the mysterious botanical newcomers @BadassBotanists for their generous and unstinting support and assistance in the production of this work which, by popular consensus, will surely and shortly be hailed as a work of musical and botanical art, if not eXtreme botanical genius. Dr M is nothing if not modest.
OK without further ado, by popular demand etc etc etc, here it is, go for it and be unstinting in your praise and adoration!