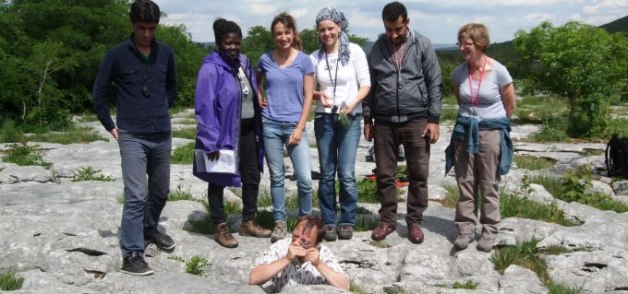 2014 was drmgoeswild.com's second Christmas and he celebrated in style with the joint production of #AdventBotany with University of Reading colleague Alastair Culham creating an imaginative and typically sideways glance at 25 Christmas plants.
Dr M asks: Can it ever have been a better time to enjoy plants and field botany? And with 156 posts published in 2014 (around 13 per month) and 200 or so viewers per day there have been many botanical highlights.  Dr M takes this opportunity to revisit these chronologically month by month below.
December – as well as #AdventBotany, this festive month brought forth "The 12 Days of Dr M" a botanical spin on the famous Christmas carol with new botanical words composed by botanists on the Twitternet and in Dr M's final MSc Vegetation Survey and Assessment class of the Autumn term, including the new botanical kids on the block the @BadassBotanists. Here, at last, Dr M and collaborators have created a true Christmas botanical classic!
November – Dr M's introduction to using the Book of Stace, this trio of posts in Dr M's long standing "tools of the eXtreme botanists trade" project, Dr M took one common plant and showed how to use the Book of Stace to key it out first to family (#1) then to genus (#2) and finally to species (sub-species actually!) (#3).
October – You're not an eXtreme botanist until you have made friends with the veg key! This is the first of a project series by Dr M on the veg key the most important of plant ID aids. Here Dr M describes how the book is structured and introduces the general key to the different sections. Hopefully 2015 will see Dr M produce his long-awaited video introduction to using the veg key, watch this space…
September – There's an app for that? Technology for UK tree ID. Dr M takes a keen interest in the use of technology to assist the field botanist in plant ID. Here in one of his posts investigating plant ID apps Dr M introduces and discusses some available apps and their role as an additional tool of the eXtreme botanists trade but emphasises they are NOT (and never can be) a substitute for other essential aids such as hard copy keys.
September also found Dr M contributing to saving UK botany through his role on the UK Plant Science Federation working group on plant science training and skills with a remit to follow up actions outlined in the earlier UKPSF report concerned with inspiring the next generation of botanists. The working group report is now completed and further work and action can be found detailed on the UKPSF website.
August found botany trending on the Twittersphere with the hashtag #iamabotanist and #reclaimthename emphasising how very many people there are the world over who like Dr M are proud to call themselves botanists and not really content with the more anodyne and generic titles such as plant biologist and plant scientist.
August also found Dr M on his first anniversary tour of central Europe taking a little red bus with 7 other botanists (8 barmy botanists in total, and a driver!) all the way from the Czech Republic, through Poland, Lithuania, Latvia and Estonia and from thence across the water to Finland and on to Oulu to attend the Society for Ecological Restoration 2014 Conference. Dr M kept a diary and published several posts on the botanical and other adventures they all had on the way.
July – Dr M's inspirational and ongoing series of botanical selfies which kicked off in June 2014 featured the youngest botanist yet to be featured – 15 year old George Garnett from Guernsey who got into botany (now in a big way) through an interest in rosewood for making his guitars! Check the botanical selfie category to see them all from the very first – which discovered ethnobotanist Susanne Masters in her gin forest, to the latest all about Niki Simpson setting the bar for digital botanical illustration in the 21st century.
June found Dr M travelling north with his University of Reading  MSc Plant Diversity students on the field course at the lovely Malham Tarn Field Studies Centre in West Yorkshire, five diary posts were published one for each day of the trip each detailing the botanical and other adventures along the way! check them all here: day one; day two; day three; day four; day five.
June was a busy month for field courses and early in the month Dr M and intrepid students spent five days visiting botanical sites in and around Reading. Starting on day 1 with Poaceae on the UoR campus, then day 2 off to the bog at Wildmoor Heath, followed by day 3 wetlands at Runnymede, then day 4 Clattinger meadows Wiltshire and finally back to Reading for day 5 and the ancient woodland at Moor Copse. The highlight for Dr M was Clattinger Meadows where spectacular flower rich meadows have been preserved by the Wiltshire Wildlife Trust which are quite possibly the most diverse flower meadows in the whole country! For Dr M a grassland ecologist at heart it was heaven on earth!
May – was a bumper month for posts with nineteen in total, but the highlight without question was from the field course at the wonderful Lizard peninsular!  Dr M spent five glorious days with his students and colleague Dr Richard Carter and published five diary posts detailing the adventures in this botanical paradise, check them all here: day 1; day 2; day 3; day 4; day 5.
April was a very busy month for Dr M with a record 24 posts detailing amongst other things the delights of pornobotany and Dr M's visit to the house of botanical hero Erasmus Darwin (the unjustifiably less well known Darwin).
April was also the month when Dr M also asked "Are you getting enough botany?" And to satiate the appetites of those crying "NO, WE WANT MORE!" Dr M offered no fewer than three ID quizzes based on flower colour, test yourself here: white flowers, yellow flowers, pink, blue and purple flowers.
March found Dr M inspiring the next generation of botanists today with a poster presentation at the UKPlantSci 2014 conference in York.
March also found Dr M participating in Reading Science Week and saw the completion of the wonderful symbiosis project and the star of the show the beautiful symbiosis book and making his own three filmlets inspired by the sheer beauty of watching lichens on twigs, check the trio here: one, two, three.
February saw lots of posts, eighteen in total, and there are two highlights: was Dr M's series of posts on marvellous mosses and on liking lichens.
Marvellous mosses nine posts in this series each one based on one of the common orders of mosses and the series starting with the Polytrichales.
Liking lichens three posts in this series each one based on a major growth form of lichens crustose, foliose, fruticose.
January – finds us at the beginning again with the results of the BSBI 2014 New Year plant hunt, in fact in just a few days, Dr M and his students will be undertaking the 2015 New Year plant hunt, watch this pace for those results!
To end this series of highlights, January 2014 was also the month when Dr M asked: "could this be the end of botany as we know it?"
So there it is, Dr M's highlights of 2014, it now only remains to discover what 2015 will yield to the global botanical community and brought to you via DrMGoesWild.com… don't go away!