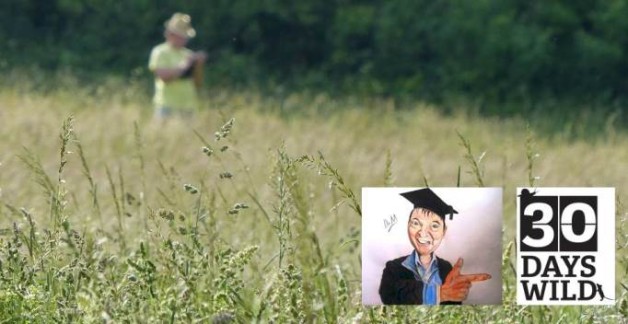 Dr M has always been going wild about plants and nature, even way before he launched drmgoeswild.com back in April 2013, and so naturally he is delighted to see that The Wildlife Trusts have a campaign for June 2015 they say:
Make room for nature this June – no matter where you are or how busy your life! Make this the month when you do something wild every day – and let us motivate you! When you sign up to our challenge, we'll send you a pack full of encouragement, ideas and Random Acts of Wildness. Make nature part of your life.
Dr M says:  Couldn't agree more, let's hope lots and lots of parents and children take part and continue beyond June into the rest of their lives, you know it makes sense, naturally!
Here is Dr M's 30 days going wild – this list will be updated each day detailing Dr M's new wild activities day by day until June 30th!
Day 1-5:
Monday 1st  Second day monitoring long-term experiment in meadow restoration in the village of Vrbka Czech Republic, Dr M and fellow botanists preparing to quadrat!
Tuesday 2nd  Third day monitoring long-term experiment in meadow restoration in the village of Vrbka Czech Republic, Dr M celebrates an excellent days fieldwork with a swig of Plum Brandy (Slivovice) in true Czech style!
Wednesday 3rd  Ivana and Jan-Wim's beautiful rooftop garden in their home-town of Veseli Czech Republic (33 degrees in the shade!).
Thursday 4th  The excursion of Dr M to the meadows of the eastern part of Carpathian Mountains (near the border with Slovakia), ID'ing a rare Alchemilla (Lady's Mantle) with Czech botanists Ivana and Karel.
Friday 5th  Last day of trip to Czech republic, Dr M bids farewell to the Carpathian meadows.
Day 6-10:
Saturday 6th  Enjoying Buttercup meadows on the award-winning green campus of University of Reading.
Sunday 7th  Enjoying English sunshine in Dr M's garden, not as hot as Czech sun but just as welcome!
Monday 8th  Dr M takes a stroll on the wild inside talking Poaceae with some of those attending the BSBI grass ID workshop at the University of Reading run by Nick Law as part of the National Plant Monitoring Scheme (NPMS).
Tuesday 9th  Dr M celebrates indoors but with plenty of nature and wildness in the research talks given by more than 80 students in the Post Graduate Symposium of the School of Biological Sciences, University of Reading.  Topics very wild and very diverse ranging from identification of powdery mildews to saltmarsh restoration, through mosquito distribution in Reading and hedgehog monitoring in the UK to reconstructing how dinosaurs radiated across the globe and conserving leopards in south Africa.
Wednesday 10th  Dr M's early morning commune with the lovely Giant Redwood tree on the University of Reading campus en route to Reading station for a trip to the Perth, Scotland to external examine in the Centre for Mountain Studies, University of Highland and Islands.
Day 11-15:
11th  Not only Dr M but everyone goes wild in the sunshine at East Princes Street Gardens Edinburgh – busy streets, Waverley station and bagpipes all bustling nearby this green gem in the heart of the city.
12th Going wild about small front gardens in the urban landscape. Horticultural or accidental, tended or untended, floral or foliose their diversity is an endless source of amazement, amusement, admiration and affection to Dr M. And another great thing about them is you can visit so many in just one morning, in just one street even!
13th  A change in the weather brought grey skies and rain but enjoying bracken and foxglove combo at the Mother of all Dr M's house!
14th  Dr M had vehicle troubles today so not much time for going wild (except for road and vehicle rage!) but he enjoyed the sight of the Pyracantha in full bloom in his garden when he finally got home after being relayed from Chepstow to Reading by the AA!
15th  Who can resist the Nation's favourite bird the robin? Ornithological charisma in spades and personified by this friendly chap perching on wooden sculpture in Dr M's garden this morning!
Day 16-20:
16th  Just over half-way through #30DaysWild finds Dr M communing with Poaceae in the garden sunshine, and asks "what's not to love about Hare's-tail Grass (Lagurus ovatus)?" with its long dorsal awns (attached to the back of the lemma) a good feature for the tribe Aveneae.
17th  Pyramidal Orchids (Anacamptis pyramidata) a common site colonising roadside verges as here near the M4 coming into Reading. Check Dr M's wildside video of roadside Pyramidals here.
18th  Dr M admires the grass Water Bent (Polypogon viridis) in his garden. As the common name suggest this used to be included in the true Bent Grasses Agrostis but has since been relocated into the genus Polypogon.  Dr M first spotted this grass with it's characteristic whorls of branches growing by a stream in the University of Reading Harris Garden a few years back. Since then he has grown it in his own garden where it has, not surprisingly, spread as this little grass is considered to be one of the fastest spreading neophytes in the UK flora, a grass truly going wild in Britain! You can read about work on this topic by Oli Pescott and Ambroise Baker here.
19th  Early morning finds Dr M once again in his garden this time with some plants going wild in a large earthenware flower pot!  But this is Dr M's garden so this is no ordinary flower pot, no bright Pelargoniums or Petunias here, rather a mix of wild plants which have colonised over the past few years.  The full list includes twelve species and there are still a few shoots of the Liatris spicata originally planted, but there is now a diverse mix.  Dr M's favourite being the Flea Sedge (Carex pulicaris) which looks quite at home in this free-draining pot and clearly demonstrating that it is not an obligate bog plant! The remaining list includes: Betony (Betonica officinalis), Button Snakewort (Liatris spicata), Cowslip (Primula veris), Hairy Couch (Elytrigia caninus), Hairy Tare (Vicia hirsuta), Cinquefoil (Potentilla sp. – not sure which!), Ribwort Lanceolata (Plantago lanceolata), Willow seedling! (Salix sp.), Scabious (Scabiosa ochroleuca – collected from Czech Republic not native in UK, but can be found in gardens as an attractive border plant), Wood Speedwell (Veronica montana) and Wood Violet (Viola riviniana). Not a bad collection for natural colonists of a 35 cm diameter crock pot in Royal Berkshire!
20th  Dr M goes wild over impossible plant names! Take this bell flower for instance, currently flowering profusely in his Mother's garden, there are two similar species both non-native in Britain and both frequently found naturalised on walls and the like and both have impossible latin specific epithets beginning with "p"!  Campanula portenschlagiana and Campanula poscharskyana! According to the book of Stace, the first has flowers lobed only 1/4-2/5 to the base, while the second has flowers lobed 1/2-3/4 to base, which seems to fit best, unless you know better!
Day 21-25:
21st  A rose by any other name would be twining with the only native member of the Yam family Black Bryony (Tamus communis).
22nd  Dr M goes wild running a botanical training day with his colleagues in Basildon!
23rd  Dr M has noticed how everybody's favourite wild flower, the Oxeye daisy, has been going wild across the countryside this year and nowhere less so than in wild and planted roadside displays such as here adjacent to the A34 not too far from Oxford.
24th  Not much to go wild about today as Dr M was busy packing and preparing for a mystery trip!  But while in town Dr M admired this lovely blooming Mallow (Malva sp.). But where is Dr M going?  All will be revealed tomorrow with some (hopefully) exotic random acts of wildness!
25th  Random wildness on the road from Athens airport in Greece where Dr M is visiting with botanical friends and colleagues for a botanical wedding and, of course, random acts of Wildness for the next 5 days!
Day 26-30:
26th  Dr M has arrived in Kalavryta  the home town of the bride to be and he spent part of the day exploring the environs of the town and found this lovely view of the nearby Mountains which will be explored in the coming days.
27th  Yes this is the wedding day, but the ceremony is not until 7pm so plenty of time for Dr M and colleagues to hop on the Odontis narrow gauge funicular railway and travel the 22 km from Kalavryta to the seaside town of Diakopto traversing the Vouraikos gorge and offering spectacular scenery en route as well as and the opportunity for a swim in the salty, bouyant mediterranean waters into the bargain!
28th  After a wonderful wedding yesterday, Sunday brought a botanical guided tour of the nearby mountains with Dr Dimitrios a colleague from Patras University. Dr M and his colleagues were taken close to the 2000m summit and enjoyed great views of the native Abies cephalonica forests and the special botanical diversity which comes alongside limestone rocks which are characteristic of this region.
29th  How time flies when you're having fun going wild in nature but amazingly we are at the penultimate day of Dr M's (and everybody else's) #30DaysWild which finds Dr M still enjoying wild nature in Greece.  Today was an excursion to the mountains this time in search of the the Acheron river that flows through northwest Greece and also figures prominently in classical mythology as one of the entrances to the underworld, certainly a very spectacular entrance!  After a tortuous mountain drive from Kalavryta to the little village of Solo Dr M and colleagues parked up and after a few false starts located the track and headed through forest of Fir (Abies), Chestnut (Castanea), Oak (Quercus) and Juniper (Juniperus) towards the river. The forecast thunderstorms became a reality as the botanical trio sheltered for a picnic lunch and Dr M with only sandals for his feet decided to forego the final kilometres, arguably missing he most eXtreme botanical part of the trip. But so botanically rich is the area he still enjoyed wondrous mountain views and botany, definitely a fitting penultimate day for Dr M's #30DaysWild!
30th  The final day of Dr M's #30DaysWild was also his last day in Greece and, as socio-political events have played out, it could hardly have been wilder as this very day Greece became the first advanced country to fail to repay a loan to the IMF and now formally in arrears alongside fears that this could put Greece at risk of leaving the euro.  A dog laying in the sunshine by the bank seemed to be saying: "Greek crisis, what Greek crisis?" But there were other more human signs of this momentous and worrying time in the small town of Kalavryta including heated discussions on street corners and in bars and small queues of locals at the cash machine as they collected their daily allowance capped at 60 euros. Dr M assisted the local economy in a very small way by purchasing some souvenirs and then headed off with his colleagues for a final excursion, this time taking in the extraordinary historic site of Mycenae.  According to legend, Mycenae was the capital of Agamemnon, and it is the chief Late Bronze Age site in mainland Greece and excavation of the site began in 1840 an included the celebrated discoveries of Heinrich Schliemann. For Dr M the site was little short of miraculous and he was flabbergasted by the extent and beauty of the ruins and admired the enormous rocks used in the construction especially the decorative conglomerates polished by millennia of human traffic and of course the visit included investigations of some of the plants colonising the walls and the environs.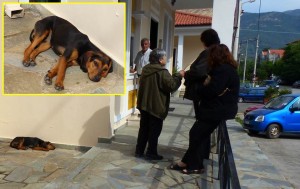 Dr M says: In summary, Dr M's #30DaysWild has found him researching in the Czech Republic, enjoying wild nature in his and other gardens and the campus of the University of Reading and random acts of wildness whilst visiting sites in southern England and Scotland as part of his day jobs as University lecturer and botanical consultant and finally of course enjoying a holiday in the Peloponnese mountains in Greece.  Already some have called for more than #30DaysWild and suggested an extension to #300DaysWild!  Whatever you decide to do with your wild life, there can be no doubt that a little or a lot of nature each and every day is a recipe for natural fulfillment!