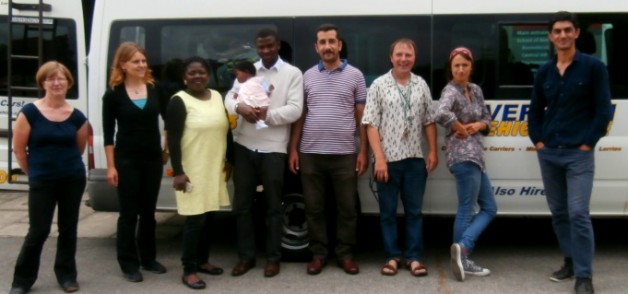 eXtreme botany heads North to Malham Tarn Field Studies Centre with Dr M and University of Reading Plant Diversity MSc students, this is #1 if Dr M's MalHam Diary.
Day 1: Saturday morning and all present and correct (eventually) in our slightly rickety 17-seater minibus, we left for Malham, or as out international group likes to call it MalHam!
On board we were graced by the presence of the lovely Princess Poaceae, at less than 3 months old, the youngest botanist ever on Dr M field courses by quite some margin! Perfectly presented and perfectly behaved the entire journey – as befits a Princess of course.
Guest tutor Hermione, last seen on the wonderful Lizard extravaganza, got students busy from t=0 during the first hour of the journey with eXtreme botany from the bus window.  Keeping students on their toes and insisting on more detail if they were slack enough to suggest botanical vaguenesses "some grass" for example.
Eventually, heavy downpours put paid to the game (and no doubt Wimbledon play as well), as plant outlines dissolved into the grey murk.
It was a good journey and unusually well to time, Dr M and students headed into the Malham Tarn Field Studies Council for dinner.
Dr M's enthusiasm slightly got the better of him, and driving the rickety bus through the infamous narrow rock-lined entrance put paid to the offside wing mirror with a dramatic crack!  But fortunately with our very own Spanish Wonder Woman on board she took one Spanish look at it and with Spanish Wonder Womanly prowess, clicked it back into shape CLICK! So all's well that ends well, thus far at least!
So well in time for dinner and Dr M was pleased to find unexpectedly some other familiar botanists present with University of Sussex students under the guidance of David Streeter (of Collins Guide fame amongst other things). Opening the door for some some nice botanical exchanges over any troublesome Carex and Bryophytes over the next few days!
As we are out-boarding at Miresfield Farm B&B in MalHam village, once dinner was over and general niceties and formalites done, we headed back to the B&B for well-earned rest, oh and some impromptu eXtreme botany plant ID with some material collected by Dr M en-route back in the aforementioned wing-mirror destroying rocky entrance! Lots of nice things growing in the rocks amongst the shattered wing mirrors and other roadkill!
Dr M doled out the plants and students worked on their given plants in their rooms, the B&B sitting room and in one case the pub, no prizes for guessing who! We then all regrouped at 9 pm to feedback findings to the whole group.
Always some nice opportunities for learning from this kind of exercise.
Here, the two key lessons learned were:
Trust your judgement; and
Don't trust you judgement!
Sometimes you initial thoughts can be spot on, but you might lose confidence for one reason or other. An example here is Apiaceae, and if you (or someone who shall be nameless!) has collected material without basal leaves, it can be difficult to key out with confidence. Result: you can spend much time on a plant that actually you know very well!
Other times your first thought can be nearly right, but you struggle because you are only nearly right. The example here relates to the Papaveraceae (Poppy family).  You might be given a poppy to ID, and you think it must be Papaver, perhaps not being familiar with other poppy genera such as Meconopsis. In this case using the Papaver key will send you in all the wrong directions (obviously because it is not Papaver it's a Mecanopsis!)  So the answer here is, if you know the family for sure go straight to the family key (e.g.in Book of Stace) even if you think you know the genus.
Bottom line as always: in eXtreme botany, use several keys and READ THE DESCRIPTIONS CAREULLY! Then check with illustrations in a reliable flower guide.