Dr M's diary: Day 1 Friday
This was a long day in which Dr M learns that Androids and Apples are not what they might seem at first sight!
Alarm clock goes off at 06.00 – it's the crack of dawn for heaven's sake! Essential coffee intake and Dr M departs from Reading 06.45, arrived Didcot 07.31 to join colleague Rob Jackson, the "kids" (Veena and Jonathan – two Biology students from Reading) and the posh hire car, and set off for North Wales at 07.45!
After a few wrangles with the posh hire car's sat nav, we drove through sunshine on the way through the Cotswolds  but this turned to serious rain as we entered North Wales which remained for the rest of the day!
Arrived at the Field Studies Council Centre at Rhydd-y-Creuau, Betws-y-Coed 12.27 in time for salad and hot chips lunch!
The topic of this workshop is technology for enhancing the teaching and learning experience from fieldwork and the strapline is "It's not the technology its the pedagogy" – we don't want the technological tail wagging the fieldwork dog do we?!.
There are nearly 30 delegates attending this Showcase Event from a wide range of higher education institutes in England, Scotland and Wales and from the FSC. The afternoon included a series of presentations on a wide range of iPhone and iPad compatible apps which can be used to record, map and describe a whole range of physical and biological stuff in the field.
And the two main operating systems are, wait for it, Apple and Android!  Well you knew that already but Dr M is a touch last century when it comes to technology which is why he is here to learn more!
The speakers covered apps for geo-referencing: like Fieldtrip GB and GPS Log,  apps for annotating still images and combinations with video and other graphics such as Skitch, Fotobabble, Educreations and Explain Everything and apps for video including Splice and iMovie.
We also heard from FSC staff about their experiences using technology (especially GPS Log combined with Skitch)  to engage secondary school students in outdoor learning.
The afternoon ended with a demonstration of a powerful app – Photosynth – which makes amazing landscape panoramas and more by automatically stitching composites of still images which can provide a great resource for analysing and explaining landscapes at a range of spatial scales.
Dr M was especially interested in a session  on using digital video in the field – digital story telling – using the video app Splice.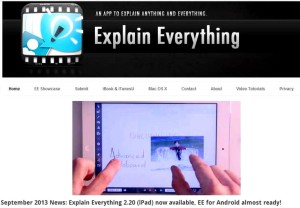 Overall on this first day, the app which most caught his eye is Explain Everything which offers great potential for explaining botanical concepts using a combination of video, still images, audio narration and overlain with freehand scribbles.  Dr M will be looking into this when he gets his hands on an iPad!
The day ended for dinner at 18.00 (with wine generously provided by Derek France the organiser!) soon followed at 19.30 by a presentation of an innovative microbiology field course to Iceland by Alice Mauchline and Rob Jackson and the above-mentioned kids Veena and Jonathan from  the University of Reading.  The Iceland show ended with a viewing of the kid Jonathan's video compilation which showed what wonderful and life-enhancing experiences student field trips can be.
The group retired to the bar (euphemistically known as the adult lounge) afterwards to continue their discussion over beer, wine or cider and Dr M elicited soundbites on the day from from the organisers who admitted to being utterly exhausted but happy with the interaction from the group during the day and noted the very promising signs for the group sessions on fieldwork planning for tomorrow. They also noted that the cider served in the adult lounge was very adult indeed at 8.2% by vol! No wonder Dr M felt the need to get to his cosy FSC bunk bed at this point!
More on the evolution of the fieldwork group exercise tomorrow after a good nights sleep!
The featured image shows Brian Whalley encouraging the delegates to form into groups for the fieldwork exercise.