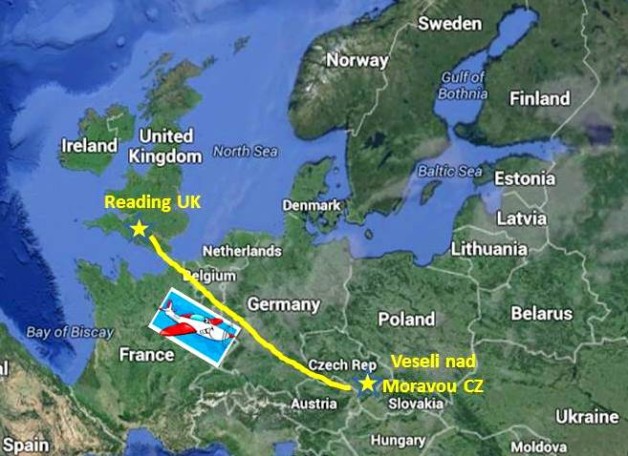 2014 marks the first anniversary of eXtreme botany and Dr M is celebrating by embarking on a European tour which tracks a botanical transect from the Czech Republic, through Poland, Lithuania, Latvia, Estonia and from thence to Finland – an eXtreme botanical transect indeed!
Day 1 Tuesday was a long day! A very early morning start from Reading, travelling to Luton airport (Lorraine Chase comes to mind, can't for the life of me recall why?) and a Wizz Air flight (you couldn't make it up!) to Brno in the Czech Republic. Not that Dr M was aware of much of this sleeping most of the way (when he wasn't driving of course!).
Dr M is particularly fond of Brno as the home town of one of the most original of the 20th century European composers Leos Janacek.
But no time for the Janacek museum today as Dr M was greeted by his long time friend and botanical colleague Dr Ivana Jongepierova, a botanical mover and shaker if there ever their was one, who has not quite single-handedly (but close), conserved and restored more species rich hay meadows than you could shake a stick at!
The Czech republic boasts 4000 ha of pristine species rich meadows and a further 7000 ha are currently in the process of regrassing (the local term for sowing regionally produced seed mixtures of plant species on ex-arable land to encourage reinstatement of meadow vegetation in the medium to long-term.
Ivana has collaborated with her colleagues and local farmers in this work  and has amassed over 30 years of data on the progress of restoration and will be presenting some of their findings at the Society for Ecological Restoration meeting in Finland next week.
For now it is enough for Dr M to enjoy the hot humid weather, to take a dip in a local lake and admire Potomogeton nodosus near the banks, harvest peaches and nectarines from the garden and to enjoy cold beer and alfresco dining in the Jongepierova's roof top garden.
No ordinary roof-top garden this, but  Ivana's Dutch-born husband Jan Wim is also an expert botanist it is a true botanists garden and the species list for the garden includes some nice dry grassland (Steppe) species including:
Bromus tectorum
Melica transylvanica
Petrorhagia prolifera
Potentilla argenteum
Thymus pulegioides
Seseli osseum
Stipa capillata
Trifolium arvense
Veronica longifolia
Veronia incana (and hybrids)
Then, after dinner, finally relaxing with fine Czech wine and an impromptu concert of piano and cymbalom music from Katya, the daughter of the house.
All excellent preparation for the next step of the journey tomorrow, which will take Dr M, Ivana and seven other colleagues on the botanical rampage across Poland!
This will be Dr M's first visit to Poland and a baptism of fire, as the intrepid group will travel the 700 km length of the country and all in one go!
Hopefully we will find time on this marathon to stop and reflect a little on the landscape, people and customs.
Check back later for the next leg of eXtreme botany: the first anniversary European Tour as Dr M and colleagues invade Poland!
BEWARE Internet facilities may be limited on a bus driving through Poland so it may be a few days before the next post, I am sure we will have exciting adventures so it will be worth the wait!