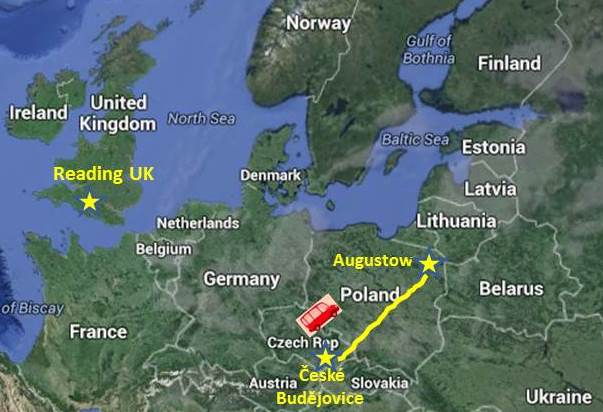 Day 2: in which the intrepid group of eight barmy botanists (and a driver) travelled in their little red mini-bus across the length of Poland – and all in just one day (over 1000 km (630 miles) and in more than 11 hours!).
While pondering this rather immense and extended journey Dr M feels crossing Poland in a day is perhaps unfair to Poland, it makes Poland seem like a land of highways, trucks and service stations, and Dr M knows for a fact this is not the case!
For example Poland is home to the last remaining primeval forest in lowland Europe, the Bialowieza Forest on the border with Belarus, with its ancient trees and native herds of European Bison.
However, needs must and the barmy botanists (and a driver) did indeed travel the length of Poland (1000 km including the trip from České Budějovice) in our first day!
This is eXtreme botanical travelling for sure, although thankfully there was a stop off just near the border at Augustow (just off the highway, near a service station, by a lot of trucks and a European Bison!) for a well needed and deserved nights rest (for eight barmy botanists and especially a driver) before the next stage into Lithuania and beyond.
The eight barmy botanists passed some of the seemingly interminable hours in a bus playing Dr M's eXtreme botanical travel game "eXtreme botany in a bus", this is a variation of Dr M's classic travel game eXtreme botany from the car, (note the subtly different name "in" rather than "from").
eXtreme botany in a bus is all about the plant origin of food we eat, in the case of eight barmy botanists (and a driver) in a bus, this was identifying the plant families in the numerous and essential snacks which sustained the eight barmies on their long journey.
Their list includes no fewer than twenty-one (21) different plant families. Indeed at least one of the barmy botanists tried some taxonomic splitting to inflate the numbers (e.g. sub-dividing Rosaceae into several separate families) but Dr M ruled this out of order and ensured that taxonomic sanity should prevail, and so the twenty-one families is a fair and unexaggerated reflection of taxonomic diversity in the food and drink on the journey through Poland.
Dr M says: Next time you embark on a long journey, check out the plant families you are munching and imbibing and see if you can beat this record, try to maximise home-made goodies and avoid commercial processed foods packed with synthetics (the proverbial E-numbers!) and your total will respond upwardly accordingly!?
The eight barmy botanists (especially the seven Czech barmies – who made all the home-baked stuff) are eXtreme botanists, making ample use of the plant resources available!
Families ordered by snack:
Homemade Savoury pancakes
Alliaceae – Allium sativum – Garlic
Cucurbitaceae – Cucurbita sp. Marrow
Lamiaceae – Origanum majorana – Marjoram  
Homemade Cherry cake
Poaceaea – Triticum aestivum, Wheat Flour
Rosaceae – Prunus sp. Cherries
Amaranthaceaea – Beta vulgaris – Sugar beet or:
Poaceae – Saccharum arundinaceum – Sugarcane  
Homemade Bread
Apiaceae – Carum carvi – Caraway seeds
Asteraceae – Helianthus annua – Sunflower seeds
Linaceae – Linum usitatissimum – Linseed
Pedaliaceae – Sesamum indica – Sesame seeds
Poaceae – Triticum aestivum, wheat flour
Polygonaceae – Fagopyrum esculentum – Buckwheat
Salad
Apiaceae – Daucus carota ssp sativa – Carrots
Cucurbitaceae – Cucumis sativus – Cucumber
Solanaceae – Capsicum annuum – Sweet Peppers
Solanaceae – Solanum lycopersicum – Tomatoes  
Fresh fruit
Cucurbitaceae – Cucumis melo – Melon
Ericaceae – Vaccinium myrtillus – Bilberries
Rosaceae – Malus sylvestris – Apple
Rosaceae – Pyrus communis – Pear
Rutaceae – Citrus x sinensis – Orange
Vitaceae – Vitus vinifera – Grapes
Strawberry jam
Amaranthaceaea – Beta vulgaris – Sugar beet or:
Poaceae – Saccharum arundinaceum – Sugarcane
Rosaceae – Fragaria – Strawberry  
Nuts
Juglandaceae – Juglans regia – Walnut  
Fish in aspic (Polish Breakfast)
Brassicaceae – Brassica oleracea – Cabbage  
Chocolate
Malvaceae – Theobroma cacao – Chocolate  
Beer
Cannabaceae – Humulus lupulus – hops
Poaceae – Hordeum vulgare – Barley  
Slivovice (Czech Plum Brandy)
Rosaceae – Prunus domestica – Plum
Coffee Rubiaceae – Coffea Arabica – Coffee
Tea Theaceae – Camellia sinensis – Tea
Plants ordered by all twenty-one families:
Alliaceae – Allium sativum – Garlic
Amaranthaceaea – Beta vulgaris Sugar beet
Apiaceae – Carum carvi – Caraway seeds
Apiaceae – Daucus carota ssp sativa – Carrots
Asteraceae – Helianthus annua – Sunflower seeds
Brassicaceae – Brassica oleracea – Cabbage
Cannabaceae – Humulus lupulus – hops
Cucurbitaceae – Cucumis melo – Melon
Cucurbitaceae – Cucumis sativus – Cucumber
Cucurbitaceae – Cucurbita sp. Marrow
Ericaceae – Vaccinium myrtillus – Bilberries
Juglandaceae – Juglans regia – Walnut
Lamiaceae – Origanum majorana – Marjoram
Linaceae – Linum usitatissimum– Linseed
Malvaceae – Theobroma cacao – Chocolate
Pedaliaceae – Sesamum indica – Sesame seeds
Poaceae – Hordeum vulgare – Barley
Poaceae  – Saccharum arundinaceum – Sugarcane
Poaceae – Triticum aestivum, wheat flour
Polygonaceae – Fagopyrum esculentum – Buckwheat
Rosaceae – Fragaria – Strawberry
Rosaceae – Malus sylvestris – Apple
Rosaceae – Prunus domestica – Plum
Rosaceae – Prunus sp. – Cherries
Rosaceae – Pyrus communis – Pear
Rubiaceae – Coffea Arabica – Coffee
Rutaceae – Citrus x sinensis – Orange
Solanaceae – Capsicum annuum – Sweet peppers
Solanaceae – Solanum lycopersicum -Tomatoes
Theaceae – Camellia sinensis – Tea
Vitaceae – Vitus vinifera – Grapes