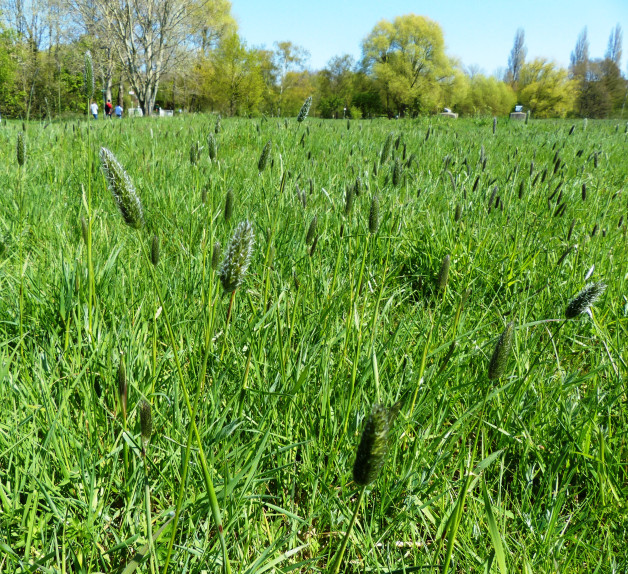 It's an open secret that Dr M has a soft spot for Poaceae and is currently busy practicing for a new improved version of the infamous Poaceae song!  But here, Dr M turns his attention to having  look at some common grasses.  Spring is here, and although all that is green is not grass, a lot of it is!  On the Whiteknights campus at University of Reading so far flowering we have Alopecurus pratensis (Meadow Foxtail), Anthoxanthum odoratum (Sweet Vernal Grass) and Dactylis glomerata (Cocksfoot), oh! and of course Poa annua (Annual Meadow Grass) but that opportunist species is always flowering!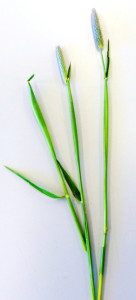 So let's take a closer look at Alopecurus pratensis (Meadow Fox-tail), one of the loveliest signs of spring in the meadows.  On the Whiteknights campus it can be seen in quite some profusion on the south side of  Whiteknights lake where the soil is wetter.  The main features of this genus are the inflated sheaths and the characteristic inflorescence which is soft and spike-like and the individual spikelets (the finest division of the inflorescence) have fine black-tipped awns.  In the picture below it is the pale stigmas which are most conspicuous.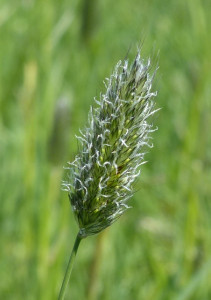 In a later blog Dr M will reveal why this is spike-like and not a true spike! Anyway the inflorescence has the appearance of a soft animal tail, hence the common name for the genus – Fox-tail.  You might mistake Alopecurus pratensis (Meadow Foxtail) for Phleum species (Timothy) but Phleum pratense  for example flowers much later and has a stiffer inflorescence with pale awns. We will look at Phleum later in the year when we find it flowering, usually around June-July.  meanwhile, do contact Dr M with news of other flowering grasses where you are!