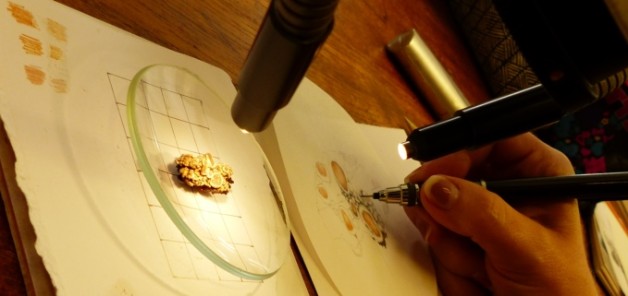 The resident exhibition for Reading Science Week was the Imagining Science Symbiosis Project about which Dr M has posted before and within which Dr M is deeply embedded!
A key member of the Symbiosis project is Immy Smith, an artist and a neuroscientist, with a fascination for biological and surreal imagery.
Immy is currently a visiting artist at University of Reading Herbarium (RNG) which was where Dr M first met her and joined Immy's artistic journey around a lichen twig!
Immy says: "Symbiosis is our current project, about art/science relationships and collaboration. We're using the symbiotic nature and patterns of lichen to illustrate these relationships."
"Its a collaboration with Imagining Science and guest artists from all over the world."
"We're also working with the University of Reading Herbarium, and EM Lab (Centre for Advanced Microscopy)."
"Along the way the project has travelled across continents, and includes a giant handmade book, 8000 miles in the making."
"The project will be exhibited for Reading Science Week 2014 where you can join us for lichen drawing, and The Symbiosis Book will be on tour in 2014, so watch this artistically lichenological space!"
Dr M says: Check out my "Imagining lichens" film starring Immy Smith, a lichen twig and their goings on in the University of Reading Herbarium (RNG) over the past 6 months!