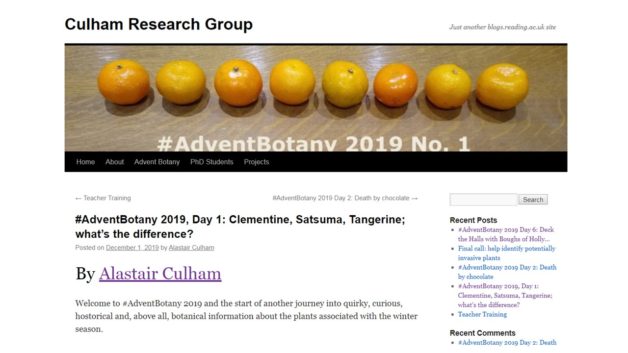 In 2014 Alastair Culham, botanist and curator of the RNG herbarium at University of Reading, hatched the idea developed of posting a Tweet, blog and Facebook entry for one plant related to Christmas for each day of advent.  At the end of that year it seemed there were far too many plants to cover in just 25 days.  So, in 2015, 2016, 2017 and 2018 new plants appeared and some previous ones were revisited. This challenging task has been shared among a group of volunteers from around the world.  Each has a novel story to tell about a plant dear to them or linked to local Christmas customs.  Huge thanks to the many contributors during all those years!
So, 2019 is the 6th glorious year and each day of advent features the science, folklore and festive linkages of a plant (or group of related plants) sometimes with obvious Christmas connections (think holly, ivy, mistletoe, Christmas trees etc!) though there are plenty of example of plants with less immediately obvious connections (strawberries, paper & string for example!).  The posts of this and all years are hosted by Alastair Culham here.
Dr M is will be contributing this year as all years, but 2019 has been a busy year for him organising and running many events celebrating 50 years of Masters botany at Reading, and so Dr M is biding his time!  He is currently preparing a post on a plant that has featured a number of times already, that most Christmas of Christmas plants the Christmas tree!  Dr M's post will appear as #17 in the series times to coincide with his University of Reading Christmas lecture entitle appropriately enough "O Christmas Tree!" to be given in the Palmer  Lecture Theatre on Tuesday 17th December starting at 4.30pm, tickets for this are sold out but you can apply to be included on the waiting list here.