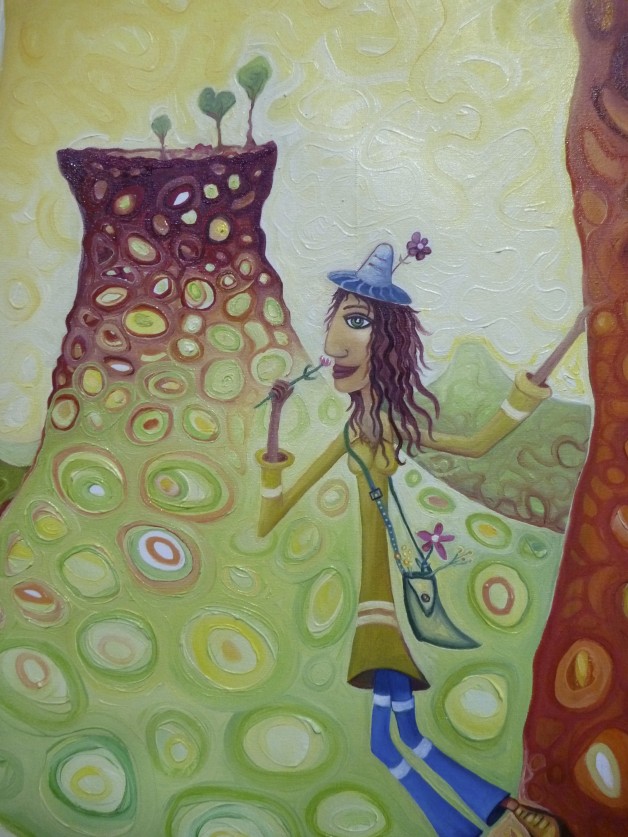 "Extreme Botany" by Dave Williams
Not so long back, Dr M was Googling eXtreme botany to check out developments in the global botanical community.  Imagine the surprise and delight when he came across this fabulous painting with the familiar title "Extreme Botany"!
So, where was this painting?  Who had painted it?  Where did this familiar and memorable title come from?
Checking out a bit more, Dr M discovered that the painting was by an artist, Dave Williams working from his studio in Brisbane, Australia!
It seems eXtreme botany has quite recently been invented independently in both hemispheres!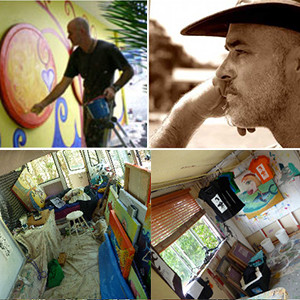 Here is Dave's story of that extreme botany painting:
I mostly paint ocean related themes, particularly Shark related paintings, to help raise awareness about the evil's of Shark Fin soup…However life seep's its way into my sketches and paintings…I express whatever is in my heart and mind at the time…
A couple of years back, I took off from the east coast and travelled across the country in my camper van to Western Australia, surfing and exploring along the way.
I set up a small painting studio in Fremantle.
Every few weeks or so i'd get a call from my friends who owned an Environmental Consulting Company based in Perth..we would pack up our maps and gear and head north…
I worked as an Enviro'Technician with a bunch of 'mad', wonderful, and very professional Botanists, we would fly/drive/chopper/boat our way into some amazing and remote areas of the NW of W.A. and conduct baseline Botanical surveys for potential mine sites.
One particular trip to the East of the Pilbara region, flying in a helicopter over an amazingly, deep, red, rocky mountainside… one of the Botanists recounted a story of how… back in the "good" old days, a retired senior colleague she had worked with in a previous job, scaled a large iron-rich cliff to get a closer look at a possibly rare specimen… the way she described his story was both hilarious and awe inspiring…the extremes one of these dedicated botanists will go to protect a rare species from extinction – was really impressive and touching.
Back at my studio I combined this story with some sketches of the amazing landscape around our campsite, and completed the oil on canvas painting of "Extreme Botany".
The painting was purchased by an Enviro Company and hangs in their offices in Perth. Along with another in the series "Snakewood" which was inspired by the same area.
Another two works from the series "Remote Camp"  and " Pilbara Dreaming"… an entrant in the "Cossack Art award"… sold to a client in Singapore.
Sketchbooks from my time in remote NW Australia are filled with all sorts beautiful plants and landscapes which I'm still yet to paint…"
Dr M comments:  a lovely story of extreme botanical creativty and it's great to discover that eXtreme botany is not only all around us here in Britain but right over the other side of the world too!  eXtreme botany is indeed a big family and eXtreme Botany knows no boundaries!
Find more about Dave and his work here:
dave@davewilliamsart.com | 0412 627462
Dave's website: www.davewilliamsart.com
Like Dave on Facebook: http://www.facebook.com/DaveWilliamsArt
Follow Dave on Twitter: www.twitter.com/davewilliamsart