Dr M is particularly fond of the University of Reading campus which extends over 123 ha of grassland, open water and woodland. Known as Whiteknights Park, it is home to over 400 species of native plants and many more planted and naturalised and is an ideal setting for Dr  M's teaching of plant identification and vegetation survey methods. Whiteknights Park has been in existence as a green space, if not a University campus, since the Norman Conquests and as a result the campus boasts many a fine tree some of which  are very old and very handsome indeed.
One which Dr M was admiring recently is the massive Turkey oak (Quercus cerris) in the University's very own Harris Garden.   Turkey Oak is a non-native species in the family Fagaceae, which also includes the two native British oaks (Quercus robur and Q.petraea) and the native Beech (Fagus sylvatica) as well as the introduced and widely planted species Sweet Chestnut (Castanea sativa).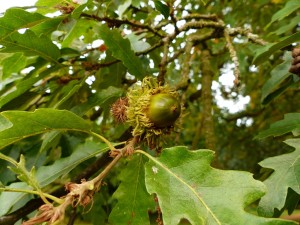 The featured image shows this specimen which Dr M paced out stretches over 30 metres from one side to the other.
Turkey oak is a deciduous tree that has been planted in woodlands, estates, large gardens, in parks and along roads. Unlike the native oak, its acorn cups have a distinctive 'whiskery' appearance as do its leaf buds. The lobes of its leaves are also pointed.
The Turkey oak has been widely cultivated in the UK since the 18th century. However, it wasn't until 1905 that it was first recorded in the wild. Since then it has colonised areas of the British countryside and displaced native plants. So much so that the plant charity, Plantlife, believe this species should be listed on Schedule 9 of the Wildlife and Countryside Act in England and Wales.
Nonetheless and notwithstanding Dr M can not help but admire this magnificent specimen and wonder what has become of the generations of children who must have delighted in bouncing on the huge resilient gently swaying bough (see to the left in the featured image) which arches a full 15 metres from the trunk down close to, though never quite touching, terra firma.